What does niacinamide do for skin? The simple answer is, almost everything. Think of niacinamide as one product that takes care of a lot of skin issues.
Although retinol and vitamin C are great too, niacinamide is so versatile and effective that I feel everyone can use it.
What is Niacinamide?
Niacinamide, nicotinamide, is a water-soluble vitamin(B3) that combines with the natural chemicals in your skin to minimize pores.
It tightens enlarged pores, evens out skin tone, reduces the appearance of wrinkles, reduces dullness, and strengthens skin.
Niacinamide also lessens the effect of environmental damage by improving the skin's barrier and aiding in the restoration of symptoms of previous damage.
How does Niacinamide work?
Foods like rice and beef liver are rich in niacin. When we eat such foods, the niacin in them is converted to niacinamide.
In turn, active niacinamide works as a precursor to the coenzymes NADH and NADPH known for boosting cellular metabolism.
They provide our cells with energy to work.
But we can't always eat a niacin-rich diet or can we? Hence, topical niacinamides.
Because niacinamide is easily absorbed, we may also use it topically to gain even more of its benefits.
How it works:
It soothes the skin
It clears out dirt giving you a brighter skin
Antimicrobial
Reduces sebum
Photo-protective
Anti-inflammatory
Related: What is a toner for skin? 10 Best Toners For Smooth Skin
What Does Niacinamide Do for Your Skin?
Let's get down to business, what does niacinamide do for skin? Generally, niacinamide builds proteins and seals moisture in the skin.
But its benefits aren't limited to these two. Here are other benefits of niacinamide.
1. It's anti-radicals
Niacinamide has been shown to fight against free radicals and inhibit oxidative stress.
Helps produce new skin cells and protects them from environmental disturbances such as sunlight and toxins.
2. Boosts immune system
Niacinamide aids in keratin formation, a kind of protein that makes the skin firm and healthy.
3. Reduces pigmentation
Niacinamide has been shown to be effective in treating dark spots, discolorations, brown patches, and melasma.
According to research, 5% niacinamide concentrations may remove black blotches.
4. The lipid barrier
Niacinamide may help your skin develop a ceramide (lipid) barrier, which aids in moisture retention.
This is excellent for all skin types, but particularly for those who suffer from eczema or have older skin.
5. Fades Wrinkles
Research suggests that a 5% concentration of niacinamide reduces the appearance of fine lines and wrinkles.
6. Reduces redness
Niacinamide decreases inflammation which may help alleviate redness from eczema, acne, or other inflammatory skin problems.
7. Treats Acne
Niacinamide's antibacterial and anti-inflammatory effects may aid in the treatment of mild to severe acne. Plus, it does not pose the possibility of bacterial resistance.
You may notice fewer pimples and better skin texture over time.
Related: The 10 Best Cleansing Balm for All Skin Types in 2022
Perhaps you don't have acne but have oily skin.
Niacinamide may assist with that as well.
According to this research, a 2% concentration of niacinamide may reduce sebum production and excretion rates.
This is a significant distinction compared to the majority of these drug-store oil control products that work by absorbing excess sebum.
Niacinamide, on the other hand, combats oily skin by lowering the amount of sebum produced and decreasing its release.
However, it may take two to four weeks of constant usage to see full benefits.
9. Reduces Dryness
Niacinamide has great moisturizing properties so it keeps your skin hydrated.
It's a viable alternative to traditional hyaluronic acid-based moisturizing serums, particularly given the long list of other benefits it offers.
10. Protects against UV Damage
If you expose your skin to sunlight regularly then you really need niacinamide. Niacinamide not only builds healthy skin cells but also shields your skin from UV damage.
Tell me the best way to start using Niacinamide
All you have to do is find a product that contains niacinamide and use them. Here's a simple rule:
Cleanse with a niacinamide-based cleanser
Use a toner
Exfoliate
Apply the remainder of your skincare products. Make sure they contain niacinamide.
During the day, use a broad-spectrum sunscreen with an SPF of 30 or higher.
Does Niacinamide cause side effects?
Topical niacinamide is usually regarded as safe to use. Although, allergic reactions are more common in those with a history of allergies.
This is due to the fact that niacinamide may trigger the release of histamine in the body.
You may prevent widespread allergy responses and product sensitivities by doing a skin test:
Apply a little quantity of product to your forearm.
Wait 24 hours.
Wash the affected area and stop using the product if you notice any redness, irritation, or swelling.
If you don't have any negative reactions, you're good to go.
Are skin products preferable over food and supplements?
Eating a balanced diet will always be the best option. Supplements should only be taken as prescribed.
Niacinamide, a type of vitamin B3 can be found in foods such as:
Cereals
Beef liver
Beans
Fish
Milk
Egg
However, you can't tell if the nutrients in your diet are having an effect on your overall skin health.
So the best way to benefit from niacinamide is through topical treatments.
What should I look for when selecting a product?
Niacinamide concentrations might vary among products, however, most formulations do not exceed 5%.
Hyperpigmentation and sun damage may be treated more effectively with 5 percent formulations, according to some research.
If you have sensitive skin, you may want to start with a lesser concentration.
Eczema and similar skin conditions may be treated with a 2% concentration of niacinamide.
Does the type of skincare product matter or when it's used in your routine?
Many topical niacinamide treatments come in the form of serums.
In addition to cleansing, toning, and moisturizing routines, serums provide additional therapy for specific skin issues.
You should apply the serum after toning but before moisturizing. It is also included in several face masks, which you should rinse off after use.
Niacinamide Skincare Products
Niacinamide is an ingredient in several skincare products such as
Cleansers
Serums
Toners
Moisturizers
The 10 best Niacinamide Serums for Your Skin
1. Paula's Choice 10% Niacinamide Booster
The thing about this serum is it doesn't have a scent and there's no silicone in its formula so it feels weightless on the skin.
2. Kristina Holey + Marie Veronique Soothing B3 Serum
Go for this serum if you're a fan of naturals. It contains no silicone, no fragrance, and a whopping 10% niacinamide.
3. The Inkey List Niacinamide
Talk of hydration, oil control, and affordability in one product. Plus, it contains 10% niacinamide. Did I mention it has no fragrance or silicone? Perfection.
4. Sobel Skin Rx 15% Niacinamide Gel Serum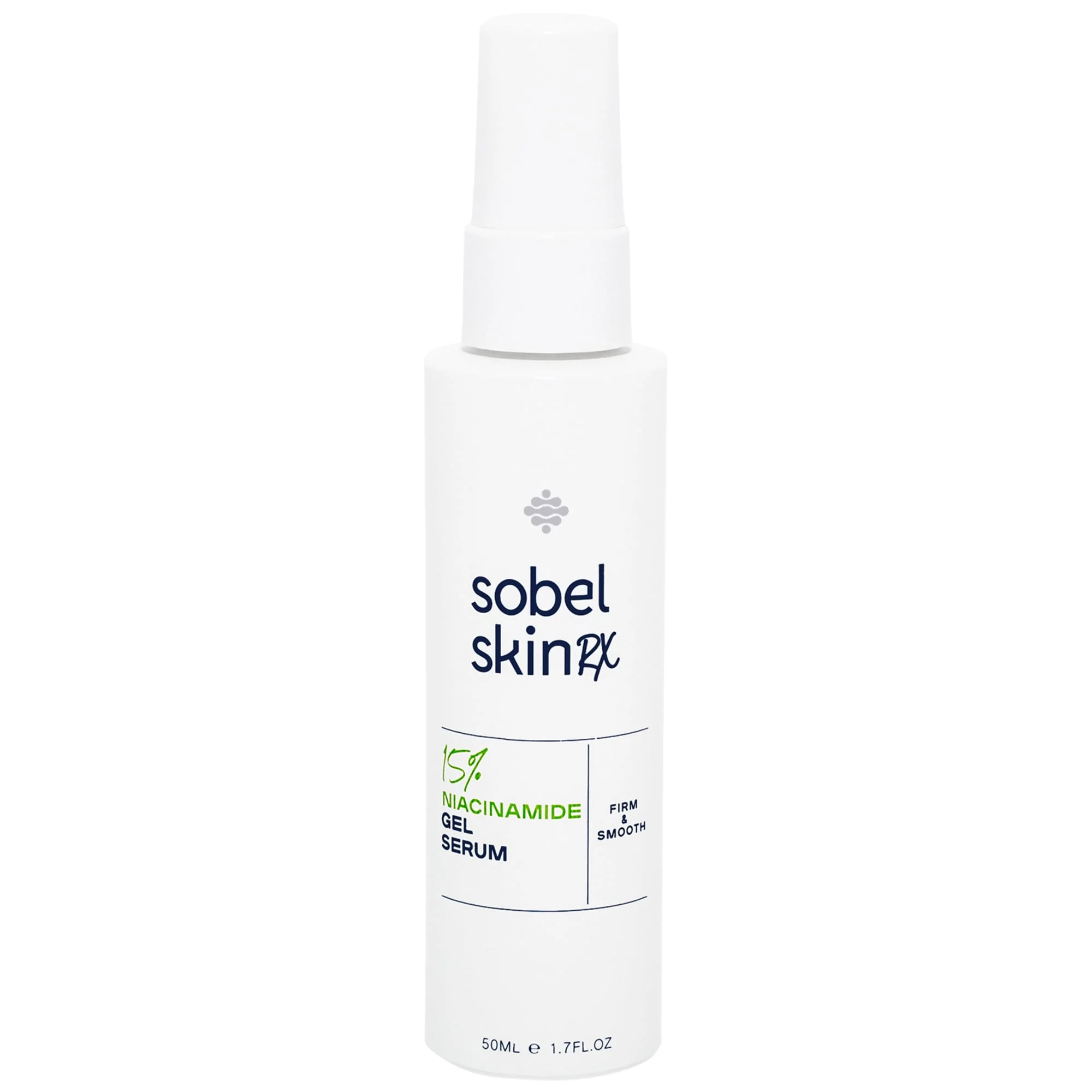 It enhances skin elasticity and firmness.
Plus, you won't smell it, and you won't find any oils or silicones in it either.
5. SkinCeuticals Discoloration Defense
This one is excellent for discolorations, brown spots, and post-acne blemishes.
Not only does it include 5% niacinamide, but it also contains three more pigmentation-fighting ingredients: 3% tranexamic acid, 1% kojic acid, and 5% sulfonic acid.
6. The Ordinary Niacinamide 10% + Zinc 1%
This serum is perfect for oily skin thanks to zinc's oil-control properties. Not to mention, it's oil, fragrance, and silicone-free.
7. Glossier Super Pure Niacinamide + Zinc Serum
With 5% niacinamide concentration and zinc's oil control properties, this serum works like a charm.
It's lightweight, has no fragrance, silicone, or oil.
8. Alpha-H Vitamin B
Hyaluronic acid, panthenol(1%), and niacinamide (5%) help to keep moisture in the skin while also supporting the skin's natural moisture barrier.
It's also laced with copper peptides—hence the blue tint—to aid in producing healthy collagen.
9. Skin Inc Supplement Bar Vitamin B3+ Serum
We don't know the concentration of niacinamide because the brand hasn't disclosed it but it sure is one of the ingredients so feel free to use it.
10. Paula's Choice Niacinamide 20% Treatment
Did you see that 20% niacinamide concentration? If you have blocked pores, stretched-out pores, this is the product for you.
Takeaway
Niacinamide does have a good effect on your skin health if applied topically and I mean lots of benefits.
It may help decrease inflammation and hyperpigmentation, improve skin texture, and lighten your skin.
I really can't stress this but niacinamide can fix whatever skin condition you are struggling with.
However, if you have questions about this article? Kindly drop it in the comment box below, we will be happy to help you.
Don't forget to follow us on Instagram or Pinterest for daily updates.