A DIY freak like myself might want to learn how to remove gel nail polish, and there's absolutely nothing wrong with that.
Sometimes, it's good to take matters into your own hands, but just don't hurt yourself while doing it.
The first at-home "fix" that springs to mind are generally to pluck, tear, or bite off the polish.
It's a powerful (and strangely pleasurable) impulse but fight it.
"When you pull off your nail polish, you remove layers of your nail bed with it, leaving them vulnerable to flaking," says Anna Styles, a manicurist in Los Angeles.
The good news is that you don't have to travel to the salon to remove gel nail polish — and you don't have to damage your nails in the process.
As Anna explains, "the best approach to properly removing gel nail polish does require some time and care, but it will help to maintain your nails in excellent form."
Now that you've been warned, here's how to remove gel nail polish the approved way.
How to Remove Gel Nail Polish
1. Get your tools
The first thing you want to do is get your tools ready, the nail file, and everything else. That will help you work faster.
2. Locate a Room with Good Airflow.
Allow plenty of time for the removal procedure and, most importantly, do so in a well-ventilated environment to avoid inhaling all that acetone.
You won't be able to complete the procedure in anything less than 30 minutes.
3.Watch out for your cuticles.
Acetone, which you'll use to remove your gels, may be harsh on the skin surrounding your nails, so protect your cuticles.
"Before you soak, apply cuticle oil to the surrounding regions," Anna advises. If you don't want to use an expensive specialty cuticle oil, don't. Vaseline does the job.
The petroleum jelly will act as a barrier, limiting the harm caused by the acetone. Aquaphor is also effective.
4. Using a coarse nail file, loosen the top layer.
The gel topcoat is a thick, virtually impenetrable coating that locks the color in place, allowing gel manicures to last weeks rather than days.
Scraping the surface with a rough nail file will aid the acetone's penetration.
"When filing, use gentle and parallel pressure," Anna advises, to prevent harming the nail plate below.
5. Soak the cottonballs
While acetone-free nail polish removers may work great for ordinary polish, you should generally use the strong stuff to remove gel manicures.
"I strongly advise using an acetone-based remover since it will break down the substance faster," explains Keisha.
Soak 10 cotton balls in a small dish of nail paint remover (not cotton pads, which do not saturate as well as cotton balls).
Cotton balls are also finer and more closely suited to your nail, resulting in less stinging acetone on your cuticles.
6. Wrap your fingertips with foil paper
Take any brand of foil and rip it into three-inch-by-three-inch squares.
Then, using your fingers, wrap them in the squares. "Place an acetone-soaked cotton ball on your pinkie nail and secure it with foil," Keisha suggests.
Repeat on all ten nails. Check your progress after 10 or 15 minutes. When you remove the foil, the nail polish should seem to have fallen off of your nail.
7. Buff away any residual polish.
Scrape away the residual polish with your cuticle stick or manicuring brush, using little pressure.
If the polish doesn't come off with minimum pressure, it's a hint that extra nail polish remover is needed: Soak a new cotton ball and wrap it in aluminum foil for a few minutes before removing the remaining polish.
8. Clean up and moisturize
"After you've finished soaking in acetone, make sure you wash properly," Anna advises.
She also recommends applying another application of cuticle oil. Try the highly rated favorite Maccibelle Cuticle oil, which comes in three distinct scents: milk and honey, pomegranate, and tea tree–lavender if you want to be a bit fancier than petroleum jelly this time.
Because acetone is so harsh, Anna recommends continuing the routine for a few days "simply to refill the moisture in your nails."
How to Remove Gel Nail Polish with Sugar
Because of the commonly accessible gel nail kits, it is simple to apply gel nail polish at home.
However, in addition to the advantages, it significantly damages your nails by weakening them and making them prone to splitting.
Furthermore, removing gel polish on your own is a pain.
But don't panic, we've compiled a natural and cost-effective approach that will help you get rid of gel nail polish swiftly and easily.
Supplies
2 tablespoons of granulated sugar
Bowl
Cotton swabs
Cuticle Oil Made at Home
Directions
Using 2 tbsp granulated sugar, ground once for a few seconds in a grinder
Then, pour it into a medium-sized mixing basin.
Now, dip the cotton ball into the powdered sugar and gently massage your nails without damaging the cuticles or surrounding skin.
Make sure to take breaks in between each step of the procedure.
Continue this method until there are no more gel polish chips on your nails.
After that, use a few drops of cuticle oil to soften and smooth your nails and cuticles.
Sugar's abrasive quality is responsible for the effectiveness of the above-mentioned DIY method.
How to Remove Gel Nail Polish Without Acetone.
Having no acetone is not an issue.
Just add a few drops of dish soap and a teaspoon of salt to a bowl of warm water and soak your nails for a few minutes. You should wait at least 20 minutes before taking off the color, says a professional manicurist.
Moisturize after the procedure.
Best Gel Nail Polish Removers
So you're trying to take off your gel nail polish, here are some products that will make it easier for you.
1. BlueTop Steam Off Gel Removal Steamer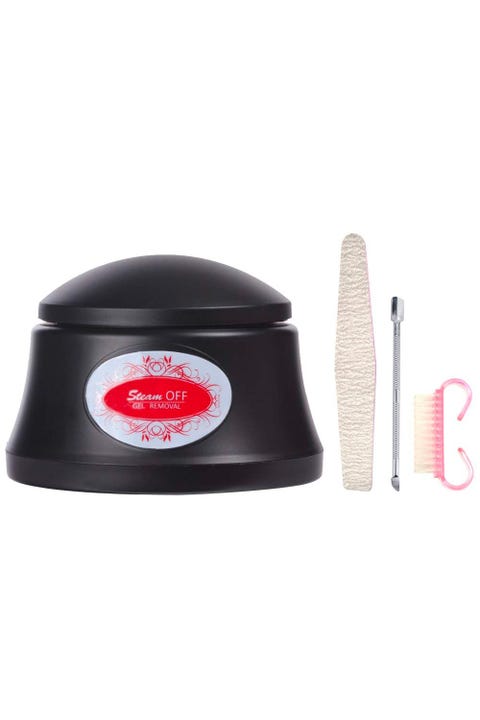 Yes, this is real, and yes, it has received positive feedback. Warm nail polish remover removes nail polish quicker and more efficiently than the cold remover.
However, it is quite flammable, which is why this small steamer is a preferable solution.
Pour some remover into the base, turn it on, poke your fingers into the holes (after filing down your polish), and let it cool for 10 minutes before turning off.
Repeat until your gel nail polish comes off easily with the accompanying metal pusher.
2. Sally Hansen Salon Gel Polish Acetone Remover
To remove gel polish, you'll need an acetone-based remover, but this one from Sally Hansen is enriched with grape seed oil and aloe leaf extract to keep your hands and nails moisturized while you remove your paint.
3. Gel Polish Remover Pads
This handy small kit contains individually wrapped nail paint remover pads for when you're on the road.
Say goodbye to mistakenly spilling a full bottle of acetone over your clothing when traveling.
4. Gospire 10-Piece Plastic Nail Clips
Your gel polish removal method will definitely include soaking at some point, regardless of the product or formula you use.
The acetone-soaked cotton balls won't slide off your nails if you use these clips instead of messing with foils and wrapping them around each finger.
5. Onyx Professional 100% Acetone Nail Polish Remover
Your gel manicure can only be removed with pure acetone. This is true regardless of the DIY approach you choose.
Unfortunately, the odd bottle of "gentle" or "moisturizing" remover you're used to isn't going to cut it when it comes to soaking or steaming your nails.
To avoid damaging your nails, use this high-quality acetone with a nail file that can quickly cut through both glitter and gel.
It's not for the faint of heart since it's pure acetone. But, dang, it works.
Frequently Asked Questions on How to Remove Gel Nail Polish
Will gel nails eventually fall off?
For gel nails to fall out in such a short period of time is not natural. You should be able to get 2-3 weeks of use out of a set of gels.
Possibly because the nail plate wasn't properly prepped before the gel application, or because the free edge was not capped/sealed.
How do you remove hard gel nails?
Gently take the gel off by scraping it from the bottom up.
Soak another cotton pad in acetone and wrap it around the nail for another 10 minutes if there are still tough places.
There you have it.
Can you pull off gel nails?
You should avoid picking at your gel nails. Your nail's top layer is also peeled away by this method.
This destroys the nails, making them more vulnerable to rough textures and white areas, making them more susceptible to injury.
They are also more prone to cracking and fracturing because of this.
How often should you take a break from gel nails?
Every eight weeks, give your gel nails a week off so they can rehydrate and restore their deeper layers.
To speed up recuperation, Anna suggests using an emollient applied directly to the nail and cuticle oil.
What is the difference between gel nails and shellac?
Although the distinctions between these two kinds of nails are quite minor, they do have an impact on your entire manicure.
As a general rule, gel nails utilize a semi-permanent gel, while shellac nails employ varnish.
Final Thoughts
Don't listen to anyone saying you can't remove gel nail polish at home by yourself. You totally can and plus DIYs are so cool.
Personally, I love getting creative.
But, if you've gone through this article and you're still skeptical then take a walk to the salon and get it done.
However, if you still have questions about this article? Kindly drop it in the comment box below, we will be happy to help you.
Don't forget to follow us on Instagram or Pinterest for daily updates.