Wait, there's powder sunscreen? Oh yeah, there is. And, I totally get it if you picture sunscreens as a thick, goopy lotion with an overpowering scent and a sticky texture.
However, protecting your skin from the sun's damaging UV rays does not have to be so irritating.
Powder sunscreen is just as effective as the lotion sunscreen and has lots of reasons why we love it.
In fact, if you polish your foundation with a slightly different formula, it may become a simple part of your makeup routine.
Though SPF is often found in creamy lotions, sheer sprays, or white zinc oxide, sunscreen and powder have officially joined forces to provide you with mess-free protection, shine control, and, on occasion, a little covering.
Does powder sunscreen, give the same level of protection as slathering on your fave sunscreen lotion?
What is powdered sunscreen?
Powdered sunscreen is not a recent development. Active components in sunscreens are already available as a powder.
Ingredients including titanium dioxide and zinc oxide are currently available in powder or liquid form, according to Dr. Kristine.
In order to ensure maximal dispersion of the titanium dioxide and produce an even coating of sunscreen ingredients on the skin, cream and spray sunscreens are manufactured as liquids.
However, sun-protective chemicals are already available as powders, so no "unique formulation" is required for making powder sunscreen.
In terms of ingredients, spray cans and powder tins are identical.
Which powder sunscreen should I use?
So you're wondering which sunscreen would work best with your skin.
It's okay, here's a guide on what you should consider when choosing a powder sunscreen.
Opt for high SPF: If you have sensitive skin, go for a broad-spectrum powder with an SPF of 30 or higher and mineral formulations (titanium dioxide or zinc oxide) since they are less irritating.
Consider your skin type:If you have oily or acne-prone skin, powder sunscreens are your greatest friend.You should opt for finer powders with moisturizing components, such as hyaluronic acid or ceramides if you have dry skin.
When should I use powder sunscreen?
Emmy Jones, a dermatologist recommends that powdered sunscreens be applied thicker and more evenly to the whole face.
As a result, she advises storing SPF powder for touch-ups since no one has the time (or money) to apply half a container of powder to their faces a mid-beach day.
Make sure to apply a combination of chemical and physical sunscreen to the skin in the morning, and then reapply during the day on your most sunburn-prone regions, including your nose, upper forehead, and midface.
Do they work?
Yes. As a bonus, powder sunscreens are easier to reapply throughout the day than creams, which means that your skin is more protected than it would be with a single application of the cream.
There is a good chance that powders are already a part of your daily beauty routine.
So why not change things up a little and throw in some skin-saving protection? Here, you'll find a selection of powder SPFs.
Regardless of skin tone, coverage desire, or price, there's a product out there for you. It's as simple as that.
Are powder sunscreens safe?
The answer is yes, provided that the product is properly labeled.
The FDA requires sunscreens to be tested for effectiveness like medications, according to one expert.
Dr. Kristine believes these newest sunscreen formulas are safe since their active components "occur naturally as powders," despite the fact that there isn't a lot of study on them.
There is a fear that nano-sized particles might be harmful when breathed, therefore we are interested in the FDA's decision on the particle size permitted in these sunscreens.
10 Best Powder Sunscreens
We've already talked about how to choose a powder sunscreen. Do you know the best ones out there?
Read on for a list of amazing powder sunscreens that will totally shield your skin from every sun irritation.
1.Mineral Wear Talc-Free Mineral Airbrushing Pressed Powder SPF 30
This powder sunscreen is both effective and inexpensive.
For those days when you don't want to wear much makeup, this delicate formula provides an extra layer of coverage.
The mineral talc, which has been related to ovarian cancer, isn't included in this product. Is there a third one? It does not include any chemical SPF components.
2. Sun Protection Mineral Powder SPF 30
Green tea, chamomile, and red algae, which have anti-inflammatory properties, are good options for those with sensitive skin, according to Dr. Kristine.
This DERMA E powder sunscreen, which is completely transparent for all skin tones, contains vitamin E, green tea, and chamomile extracts.
In addition, it is free of common skin irritants, such as synthetic fragrances, parabens, and sulfates.
3. Tarteguard 30 Mineral Powder Sunscreen
This well-loved product makes it simple to protect yourself from the sun with SPF 30 and antioxidants and mineral sun protection.
Get rid of oiliness and protect yourself from the sun by swiping over your face.
4. Sunforgettable Mineral SPF 50 Sunscreen Brush
Infrared radiation, blue (HEV) light, pollution, and dangerous UVA/UVB rays are all covered by this award-winning powder sunscreen.
The fact that it doesn't clog pores and helps to mattify midday shine makes it an excellent choice for those with acne-prone skin.
Additionally, Dr. Kristine recommends this solution since it is waterproof and available in four distinct hues (fair to deep).
5. Mineral Sunscreen Powder Broad Spectrum SPF 30
Reef-safe, paraben-free, and vegan friendly, this mineral powder sunscreen comes in a self-dispensing brush with a natural composition.
It just doesn't seem chalky as liquid sunscreen often does, and because it enables me to reapply along my portion and T-zone on my face, I love it" says, Mary.
6. SEA Set & Protect Mineral Sunscreen Powder SPF 30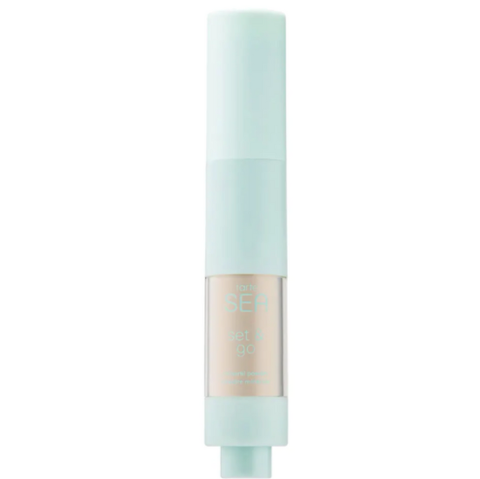 This vegan powder protects and sets your makeup for up to 12 hours.
Its small size makes it ideal for those constantly on the move or rushing late.
7. On-the-Go Shielding Powder SPF 30
This powder is enriched with ceramides, vitamins C and E, and SPF 30 to protect the skin from the sun and other environmental elements.
Get your hands on it and use it throughout the day to maintain a matte finish.
8. High Protection Tinted Compact SPF 50
If you're looking for a wide spectrum sunscreen that won't bother delicate skin, this cream-to-powder mineral sunscreen is the answer.
The antioxidant vitamin E, which is photo-stable, is another key benefit of this product.
It's water-resistant for up to 40 minutes, and it comes with a mirror for touch-ups on the beach.
9. Isdinceutics Mineral Brush Powder SPF 50
This multi-layered protection provided by Isdin's powder SPF includes protection against blue light, which has been linked to skin hyperpigmentation, including the development of skin cancers like melasma.
For protection against ultraviolet (UV) light as well as blue and infrared rays, the formula comprises titanium dioxide, zinc oxide, and iron oxides (TiO2).
It also gives skin a lovely, natural glow.
10. Powder-Me SPF Dry Sunscreen SPF 30
For those who like to carry only one sunscreen for their face and body, Jane Iredale's powder will make their lives so much simpler.
Chemical-free, water-resistant, and lightweight, this product is completely reef-safe (so you can protect your skin and the ocean).
As a result of the applicator's cushion-like design, you can precisely regulate the quantity of powder sprayed.
How to Apply Powder Sunscreen
So now you know the products to choose from, how about their application? Don't panic, I got you.
1.Apply a sunscreen lotion as base
After cleansing and moisturizing, apply a cream or lotion-based sunscreen to any exposed areas.
2. If you wear makeup then put it on
Next, apply whatever skin makeup you like—concealer, foundation, tinted moisturizer, BB cream, or CC cream.
Or you can swat your powder SPF over your first sunscreen layer.
3. Apply your powder sunscreen
Now apply your powder, but make sure your skin is completely dry.
Wet or damp surfaces may result in a streaky application and reduced protection.
Test the powder flow by tapping the built-in brush. Apply it on your skin in tiny circular strokes. It's really that easy.
Frequently Asked Questions on Powder Sunscreens
How long does powder sunscreen last?
Sunscreens are usually effective for two to three years after manufacture.
Expired sunscreen loses its original quality.
To maximize the life of your water-resistant sunscreen, keep it appropriately.
Is powder sunscreen good for acne-prone skin?
Powder sunscreens are wonderful for mattifying oily skin, particularly during the summer, and are perfect for acne-prone skin.
Does sunscreen lighten skin?
Sunscreen blocks UV rays and hence protects the skin.
Contrary to popular belief, it does not whiten the skin as whitening or bleaching solutions do.
Can I use sunscreen at night?
Wear a wide spectrum sunscreen or sunblock throughout the day to protect your skin from sun damage, but wash it off before bed and apply a night lotion tailored to your skin type and concerns.
Can I skip moisturizer and use sunscreen?
Apply a chemical sunscreen first before the moisturizer because chemical sunscreens must permeate the skin to protect.
But, sunscreen should be applied after moisturizer when using physical sunscreen (also called mineral sunscreen).
Final Thoughts on Powder Sunscreen
Most people are so familiar with lotion sunscreens that they don't want to try powder ones but this article has given you enough information on powder sunscreens.
From the ingredients to look out for, the application, covers pretty much everything.
They are safe and very effective and you really should try out these ten highly recommended products.
Powder sunscreens will soon be your favorite you can take it from me.
Have any more questions about powder sunscreens? Kindly drop it in the comment box below, we will be happy to help you.
Don't forget to follow us on Instagram or Pinterest for daily updates.