What came into your mind when you first heard the term Permanent Makeup?
I can only imagine what you thought of it, probably you are right.
Well, we don't want you to assume anything about permanent makeup or anything that concerns it anymore.
That's why we decided to talk to some experts, we've gathered first-hand information on this particular topic.
And you are about to learn almost everything about this permanent makeup trend.
So with any further ado let's get started.
What is Permanent Makeup?
Permanent makeup is a cosmetic method that uses tattoos (permanent pigmentation of the dermis) to create makeup-like patterns on the skin of the face, lips, and eyelids.
Such as eye lining and other permanent enhancing hues.
It's also used to make artificial eyebrows, especially for persons who have lost theirs due to ageing.
Sickness, such as alopecia totalis, chemotherapy, or a genetic disorder.
And to hide scars and white areas on the skin as those caused by vitiligo.
It's also utilized to repair or enhance the areola of the breast following surgery.
Let's Explain Further…
Applying eyeliner, lipstick, or other cosmetics might be challenging if you have unsteady hands or poor eyesight.
Perhaps you need to add pigmentation to particular parts of your body for medical reasons.
Maybe you have a hectic schedule and don't have time to apply your makeup.
Or you can't locate cosmetics that last long enough on your skin.
If you answered yes to any of these questions, you may have considered permanent makeup as a solution.
But you're certainly curious about how permanent makeup works and if it's even safe.
Many people also wonder whether permanent eyeliner can be erased after it's been done.
When deciding whether or not an operation like this is worth it, the phrase "permanent" frequently gives people pause.

Surprisingly, this might be the finest (or perhaps the worst) component of the treatment depending on certain conditions.
Types of Permanent Makeup
Microblading
Lip Blushing
Permanent Eyeliner
Scar Camouflage
Freckle Tattoos
Blush
1. Microblading
The most common kind of permanent cosmetics is microblading, which is a fancy name for an eyebrow tattoo.
The contemporary process duplicates individual hair strokes for a natural appearance, rather than the startlingly black brows found on members of the Silent Generation.
An ultra-fine pen is used by cosmetic tattoo artists to put colour directly beneath the skin.
Brow feathering and micro shading are two more terms you may hear.
"For marketing reasons, people will claim various ways," Khloe explains.
Other methods are still classified as natural-looking hair strokes.
And the most essential thing to do before arranging an appointment is to look at samples of your artist's work and make sure you like what you see.
Who can go for this?
If filling in your brows is an important aspect of your cosmetic regimen, consider microblading.
The operation is dermatologist-approved, which is a plus.
"I believe it is a fantastic therapy for restoring the brows," says Ava Claire, a board-certified dermatologist in Los Angeles.
She's such a proponent of the treatment that she runs her own microblading clinics.
"We can be prepared for the unanticipated issues and respond or react appropriately," Claire says of having your procedure done at a dermatologist's clinic.
Even if you pick a non-medical cosmetic tattoo artist, see your dermatologist ensure that your skin is suitable for a tattoo.
Khloe refuses to work with individuals who have oily skin or huge pores.
"Microblading looks best when precise details are achieved," Khloe explains.
"People with oily skin will have a hard time healing with the fine strokes needed for a natural result."
How long can this take you?
Microblading, like any tattoo, fades with time.
In 12 to 18 months, you should visit your artist for a touch-up.
It's entirely up to you when you return: "The pigments are meant to fade over time, so when the colour begins to lose concentration, it's a personal choice whether to come back for maintenance," Khloe adds.
"Some individuals fade a little and then desire more; others fade nearly completely before returning."
The artist will add a colour concentration to the previous work during a maintenance visit.
What are the possible dangers?
Any permanent makeup tattoo carries the danger of infection (as well as just about any type of body tattoo).
"We're opening the door for skin and blood-borne viruses to spread," Khloe says.
"Make sure the professionals are utilizing one time, disposable tools."
The artist should open the new tool in your very presence.
According to Khloe, an infection may also arise if customers do not follow the necessary aftercare instructions, which include keeping the region dry and out of the sun for at least 10 days.
After six weeks or so, your artist should arrange a follow-up session to confirm that the skin has healed correctly and that you are satisfied with the results.
Aside from the health hazards, there's also the possibility that you'll be dissatisfied with the final product and be left with unloved brows for over a year.
Make sure the artist's work fits your own style by doing some research on them.
Possible Price
Depending on the artist, microblading might cost anywhere from $600 to $1,000.
2. Lip Blushing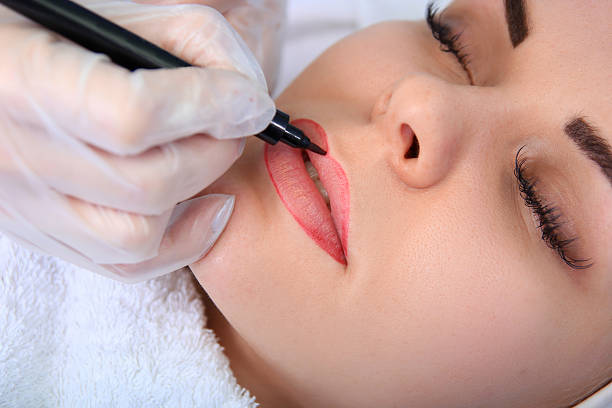 Lip tattoos may conjure up images of a glamorous grande dame using permanent lip liner but never seeming to fill in her lips.
However, according to Khloe, the method has evolved into what is currently known as lip blushing or lip tinting.
The tattoo is a subtle wash of colour that runs the length of the lip.
Khloe adds a little darker overlay of pigment to her customers' natural lip colour.
The completed product should resemble a smudged, just-bitten lip — the kind of faint colour that suggests you've just had a makeout session.
Lip blushing, according to Khloe, is a "more intensive" procedure than other permanent cosmetic tattoos.
"Some customers need two or three touch-ups since the skin on the lips does not maintain the colour as well as the rest of the skin."
Who can go for this?
People like the appearance of blurred lips and have a high pain threshold.
"People do feel discomfort and swelling because their lips are a lot more sensitive than the rest of their face," Khloe explains.
After your procedure, you should expect to be puffy and to appear as you've just undergone lip injections.
How long can this take you?
The colour will last roughly a year once you've gone through the several touch-up procedures required to obtain your desired appearance.
What are the possible dangers?
Claire confesses she's not a big fan of lip-blushing tattoos.
She adds that "there is a greater prevalence of hypersensitivity to the red pigment in the tattoo."
If you do acquire an allergy, keep in mind that there's no simple way to get rid of it:
"When a corrective laser is used to remove the red pigment, it nearly invariably becomes black," Claire explains.
"Because of our skill, innovation, meticulous care, and profound knowledge of the skin, the patient will have just minor issues."
Possible Price
Khloe charges $1,400 for lip blushing, which includes as many touch-up treatments as you need to get the appearance you want.
3. Permanent Eyeliner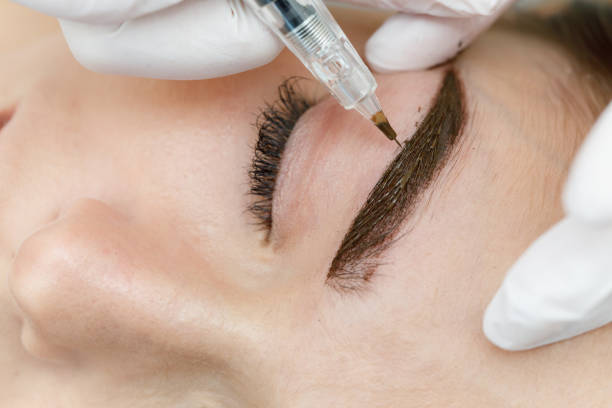 To provide the illusion of thicker lashes, eyeliner tattoos are placed inside or above the lash line.
Khloe offers two different kinds of eyeliner tattoos: conventional and lashes line enhancement.
The conventional tattoo is put just above the lash line, giving the appearance of an eyeliner line.
For a more delicate, natural effect, the lash augmentation rests inside the lash line.
"If you're not wearing makeup, a lash enhancer will simply make you seem like you have thicker lashes," Khloe says.
Who can go for this?
The individual who wears mascara to the gym and refuses to leave the house without liquid eyeliner.
How long can this take you?
Lip blushing may continue anywhere from 12 to 18 months.
What are the possible dangers?
The most significant concern, as with the brows and lips, is infection.
According to Claire, eyeliner tattoos are an "excellent" solution for increased lash definition in certain circumstances.
Possible Price
The woke-up-like-this lip colour ranges in price from $400 to $800.
4. Scar Camouflage
Scar camouflage is a skin tattoo that uses flesh-coloured pigment to conceal a scar.
Although artists may cover other types of scars, stretch marks, or acne scars, the most well-known usage is for mastectomy scars.
Charlie begins by evaluating the scar and custom-blending a colour to match the client's skin tone.
She uses thin layers of pigment that are less than one millimetre under the skin's surface to implant the pigment.
Two to three sessions will be required to complete the final result, with each session planned five to six weeks apart to allow for healing time in between.
Who can go for this?
This therapy is appropriate for anybody who has scars that are lighter in colour than their original skin.
Scars that are brown, purple, or red do not react well to this treatment.
If this is the case, laser and bleaching treatments should be performed first, followed by camouflage.
While this therapy is effective on hypertrophied scars, it is not effective on keloid scars.
The scar (or stretch mark) must also be entirely healed (typically eight to twelve months) to ensure that any lingering redness or purple hues have completely dissolved and vanished.
Leaving the region with a disturbance in melanin production.
"This works especially well on stretch marks, which have lost not just their melanin but also their collagen and elasticity,"
Charlie explains, "since I deal with texture and colour in one treatment."
People with hypopigmentation patches, which are areas of skin that are lighter in colour than the rest of their body, are usually good candidates.
The most prevalent causes are acne or UV damage.
How long can this take you?
Since scar tissue has a stronger structure and no sweat glands.
Scar camouflage lasts much longer than other kinds of semipermanent makeup.
According to Charlie, clients should expect benefits to continue for years.
Particularly with low sun exposure and moderate skin maintenance.
What are the possible dangers?
The most prevalent danger, according to Charlie, is lousy artwork.
"Some technicians merely mix white and dark together to attempt to mimic a skin tone," she explains.
"The brown will most commonly become orange over time due to the molecular structure of the pigment.
Whereas the white will stay permanently brilliant, which has the reverse effect of making the scar even more visible."
Do your study and make sure your artist's method resonates with you, as with any sort of permanent makeup.
Possible Price
The price may vary depending on the size of the scars, but expect to spend between $2,500 and $4,500.
5. Freckle Tattoos
Consider freckle tattoos to be the outspoken younger sister of the permanent cosmetics business.
Some artists refuse to apply them because it's difficult to keep an equal fading on the face.
While others believe that freckles are uneven by nature.
Bethany Fred, a cosmetic tattoo artist based in New York City, begins by sketching individual freckles with an eyeliner pencil.
She then tattoos each freckle using a stick-and-poke technique.
Which involves tattooing with a single needle rather than a machine. (It takes around four or five pokes for each one.)
She'll gradually develop a freckled face with diluted pigment until the freckles seem soft, natural, and just under the skin.
She puts numbing lotion to the client's face after the initial pass with the needle and then goes in again to make some larger or darker without causing further suffering.
Who can go for this?
People who had freckles as youngsters make up the majority of Fred's clientele.
"As they grew older, they wanted to avoid the sun.
Their freckles began to vanish.
They want to seem youthful without having to expose themselves to the sun".
How long can this take you?
According to Fred, most customers return for a touch-up after a year or two, depending on how fast their freckles fade and how dark they want them to be.
Plan to return for maintenance treatments or wait for the tattoos to fade entirely since skin-care products speed the fading process.
One advantage is that freckle tattoos may be applied in small increments.
Unlike other kinds of permanent cosmetics, freckle tattoos may be applied in small increments.
(You may have a variety of freckles, but you can't have one eye that is always lined).
Clients often return to Fred and request that she add more.
What are the possible dangers?
Dominique Charlie, a semipermanent cosmetic improvement specialist, thinks freckles are "difficult to preserve."
To be fair, touch-ups are required with any kind of permanent makeup, but face tattoos are more difficult since they may fade unevenly.
Inquire about your artist's touch-up policy
(some charge per visit, while others include maintenance appointments in the original cost)
And get images of previous customers so you can see how your artist's pigment fades.
Possible Price
Fred charges $200 for his services.
Blush
Blush tattoos are not done by any of the professional artists I talked with.
"Some cosmetic tattoos are more forbidden than others," adds Fred.
"Blush on the cheeks is one of them."
The reddened region may not fade uniformly, giving you the appearance of uneven red patches or an unblended blush.
Skin-care products and procedures may cause colour disintegration or uneven fading.
Most experienced artists will not tattoo permanent blush since it is hard to prevent using any skin-care products (let alone the sun, which causes fading).
Related: The 10 Benefits of a Clay Face Mask for Your Skin in 2022
Frequently Asked Questions about Permanent Makeup
Is it true that these tattoos are permanent?
According to Dr. Simon Bruce, the most important thing for people to realize is that permanent makeup is difficult to remove and that there are risks involved.
"Depending on the colour of the tattoo, it may be difficult to remove the pigment.
Removing the ink is a lengthy, difficult, and costly operation and the ink can't always be completely erased," she explains.
While this makeup will never completely wash off, it will normally diminish over time as skin cells are regularly regenerated.
As a result, you may need to revisit it in the future.
How can I locate a qualified practitioner?
While most persons who conduct micro pigmentation are aestheticians or tattoo artists.
You may also look for physicians that operate before in your region online.
Dr. Simon Bruce recommends doing research and asking the following questions:
How long have you been tattooing cosmetics?
Is it possible for me to view your credentials?
Can I view examples of your previous work?
"Make sure they use medical-grade sterilization and top-notch ink." Dr. Simon Bruce says,
"Ask about their follow-up care approach and go with someone who gives natural results."
Before booking any operation, make sure you know your skin type and have a consultation.
Inquire about their qualifications or certifications.
Is the workplace tidy? Consider if you feel secure moving ahead after visiting, chatting, and watching.
You have the option of taking a tour of the facilities, including the procedure room.
Make sure you know whether you'll require anaesthetic (usually local).
What are the possible side effects of micro-pigmentation?
When needles are used, there is always the danger of infection.
This is particularly true if the needles were not sterilized correctly.
According to Dr. Simon Bruce, "your body might respond to the foreign ink particles and produce patches of inflamed tissue."
"The tattooing method may also produce keloid scars if you're prone to them."
An allergic reaction to a certain colour or kind of tattoo ink is also possible.
"Once you have a response, it may be extremely difficult to cure," Dr. Simon Bruce explains.
"However, this can be prevented by doing a test region behind the ear to check if there is a reaction."
Bleeding, crusting, swelling, loss of eyelashes, serious eyelid damage, and ectropion are all potential consequences
(which occurs when the eyelid is turned away from the eyeball).
Pigments may potentially interfere with cranial MRI scans by lowering the picture quality.
According to the US Food and Drug Administration.
MRI scans might induce swelling or burning in the location of a tattoo on rare occasions.
What is the price of permanent makeup?
The cost varies depending on the practitioner and the degree of the procedure you want to be done.
And it's unlikely to be reimbursed by insurance since it's cosmetic.
Prior to considering cost, concentrate on locating reliable establishments.
If you don't discover a suitable match, you should seriously consider delaying or foregoing.
What kind of aftercare is involved?
You may need repeated treatments, so speak to your doctor about it.
Because colour fades over time, you may need to touch up your tattoo.
Dr. Simon Bruce explains, "There's a reason micro-pigmentation is considered permanent."
"You want to make sure you've thoroughly and carefully evaluated the commitment you're truly making when it comes to the face you put out to the world every day."
What younger people should think about before getting tattoos.
While some of the permanent makeup may be alluring, you should consider your options carefully, particularly if you're a young person.
Keep in mind that some features of the face, such as the eyes, brows, and lips, vary with age.
"Beauty trends change with time." Full lips and thick brows are now trending on social media.
But this may not be the case in five or ten years, according to Dr. Simon Bruce.
"To seem natural, always start with a simple approach – because less is more."
She also notes that imitating the look of eyebrow hair with tattoo ink is tough.
Pros and Cons of Permanent Makeup
There is a lot to consider when it comes to the benefits and drawbacks of permanent makeup.
And since this is a long-term operation, thorough thinking is essential.
Before you make a final choice, take your time to consider your alternatives and consult with an expert.
Advantages of permanent makeup
Here is the good side of Permanent Makeup:
Boosts your self-assurance.
Use a smudge-proof, waterproof eyeliner to draw attention to your eyes.
Natural-looking brows help to frame your face.
Add fullness and colour to your lips by defining them.
Enhance the colour of your lips to match your complexion and hair tones.
Give the face and features a lasting sense of equilibrium.
Daily makeup application gives you more freedom and convenience.
Assist folks who are physically unable to apply makeup or who are having trouble doing so.
A solution for people who are sensitive to conventional cosmetics
Using makeup to hide defects and scars on the face.
Asymmetrical face characteristics are corrected.
Nurses and personnel who aren't permitted to apply cosmetics in hygienic surroundings would appreciate this.
Allow individuals to engage in sports without their makeup smearing, fading, or streaking.
Save time–no there's a need to waste time putting on makeup. In today's environment, time is such a valuable commodity.
Reduces tension — all it takes is a slip of the wrist to smudge your eyeliner. There's no reason to be concerned about this.
Prevents eye discomfort caused by incidental contact with the eye when applying eyeliner.
Eyeliner flakes on their contacts are no longer an issue.
As you become older, your motor skills decline, making it more difficult to apply makeup with a steady hand.
Disadvantages of permanent makeup
Below are the negative impacts of Permanent Makeup:
It's not going away. Permanent makeup is not for you if you want to alter your makeup look every few weeks. You will have this tattoo for the rest of your life, so make sure you adore it completely. It should be a timeless look rather than a fad. It should not be asked on the spur of the moment, but rather after serious consideration. Finally, it should be administered by a skilled expert who will guarantee that the result is exactly what you desire.
It may represent a threat to one's safety. Permanent makeup, like other tattoos, may cause allergic reactions or skin infections, although the risk is quite low. To decrease the danger of infection, we utilize sanitized, one-time-use equipment at DermaHealth Laser & Skin Care Clinic.
It may be excruciating. Given that we're talking about tattoos, it should come as no surprise that the technique may be painful. Both before and during the treatment, we administer anaesthetics to make the process more comfortable.
It may be rather costly. Of course, the cost may vary depending on the process and the size of the region, but permanent makeup is much more expensive than drugstore cosmetics.
However, if you sum up all of the money you spend on cosmetics, you could find it to be equivalent in the long term.
It has the potential to fade. Permanent makeup, like most tattoos, has the potential to fade over time. You may have to cope with fading eyeliner or a repeat operation to darken the line in the future.
Final Thoughts
Permanent eyeliner may last anywhere from one to three years.
Depending on how quickly the colour is absorbed by your skin, which varies from person to person.
According to Khloe, you shouldn't expose the region to water for roughly a week while it's mending.
And eye makeup should be kept to a minimum to ensure the pigment lasts.
Permanent makeup is the way to go if you're tired of spending half your income on items you don't care for and want a genuine "I woke up like this" appearance.
But, before you make an appointment, make sure you do your homework and find a specialist who has the necessary training, experience, and license in the field. It is, after all, your face.
Have any more questions about this post? Kindly drop it in the comment box below, we will be happy to help you.
Don't forget to follow us on Instagram or Pinterest for daily updates.