Facial cleansers are essential for everyone, but choosing cleansers for dry skin may not always be easy since dry skin is product-sensitive.
You can actually avoid acne, irritation, and other skin disorders by cleansing your face on a regular basis.
Also, your skincare products will perform way better on a clean face, so the rest of your regimen will be more effective.
Dry skin needs moisture like we need oxygen but sometimes, a face wash leaves you feeling dehydrated.
Because face washes are intended to clean the skin, many include surfactants, which are soaps that attract dirt, oil, and filth from pores.
This may cause the skin to lose even more moisture, resulting in dry, flaky spots.
It's not simply flakiness or that unpleasant tight feeling, dry skin appears sallow, lifeless and accentuates creases and wrinkles.
So as a person with dry skin, moisturizing may be your go-to product.
Choosing the appropriate cleanser for your dry skin type might be the key to obtaining the radiant, even skin tone you want. Who said dry skin can't glow?
When choosing a cleanser for dry skin, seek solutions that include moisture-retaining components like hyaluronic acid and ceramides, as well as chamomile and glycerin, which help to soothe sensitive skin.
You must consider the elements that can best support the delicately weakened skin barrier and assist in not only healing and nourishing it but also maximizing its functions.
We've put together a list of some of the finest cleansers for dry skin, the ones that impressed us with their ability to leave even the most parched areas supple while still removing makeup and dirt.
How to choose the best cleanser for dry skin
Can I walk into a store and pick out the most eye-catching bottle of cleanser? Not exactly.
There are key ingredients you need to look out for when choosing cleansers for dry skin.
1. Avoid fragrances: When it comes to scents, it's particularly crucial to avoid them since they might cause allergic reactions.
Look for the word "fragrance-free" or "unscented" on the label. It's also a good idea to use sensitive skin products.
2. Keep an eye out for anti-agers: Glycolic and lactic acids may help battle the symptoms of aging and keep those pesky blackheads away.
They can rob dry skin of the oil it needs to maintain healthy composure.
3. Go for moisturizing ingredients: If there's one thing dry skin needs, it's moisture.
Your face cleanser should not include any of the following substances:
Hyaluronic acid
Ceramides
Glycerin,
Urea
antioxidants
Aquaporins
salicylic acid.
Best Cleansers for Acne-Prone Skin
1. Mario Badescu Acne Facial Cleanser
Thyme, aloe, and chamomile ingredients from Mario Badescu are infused into this cleanser to calm sensitive skin.
The salicylic acid in it also helps to keep acne at bay by cleaning the skin deeply and reducing the likelihood of outbreaks.
2. Cetaphil Gentle Skin Cleanser
Both dermatologists and their patients enjoy this Cetaphil cleanser.
It's affordable, readily accessible at pharmacies, and soap-free, so it's easy to remove.
It has no scent and is really mild, but it does the job.
3. Glossier Milky Jelly Cleanser
It's a pleasure to apply this gel to your skin because of its silky feel. There is no foam in the Milky Jelly Cleanser, but the product performs an excellent job of removing all makeup and dead cells from the face.
4. Drunk Elephant Beste No. 9 Jelly Cleanser
Unscented Beste No. 9 Jelly Cleanser from Drunk Elephant foams up to remove dirt and filth from the skin.
Soothes irritated skin with a simple, no-fuss solution.
Best Hydrating Cleanser for Dry Skin
1. CeraVe Hydrating Facial Cleanser
Cerave's cleanser is exceptionally gentle on the skin and keeps your skin moisturized. This cleanser contains hyaluronic acid and is non-comedogenic and odorless, so it won't clog your pores.
2. Neutrogena Hydro Boost Hydrating Cleansing Gel
Neutrogena Hydro Boost Hydrating Cleansing Gel has a bouncy sensation about it. Hyaluronic acid in the lather helps to keep skin moisturized even after you've washed it.
3.E-Rase Milki Micellar Water
It's simple.
Those with dry and irritated skin will appreciate Drunk Elephant's E-Rase micellar water, which contains three kinds of ceramides and moisturizing melon seed oil.
Best face wash for dry, sensitive skin
1. Clinique Liquid Facial Soap
Clinique's sensitive skin washing product is deceptively simple. Caffeine and vitamin E help give your skin that "awake" sensation post-cleanse, while hydrating olive oil, soothing cucumber, and cleaning sunflower revitalize it.
It is also paraben-free.
Clinique Liquid Facial Soap has a strong, somewhat medicinal odor.
2. Aveeno Absolutely Ageless Nourishing Cleanser
Vitamin E and blackberry ingredients nourish your skin as you lather up with this inexpensive choice. Inflammation associated with eczema may be alleviated by the use of these substances.
Ascorbic acid, a type of vitamin C, is included in the cleanser and may help alleviate chronic inflammation.
3. The Cleansing Balm
The TFC8 blend by Augustinus Bader contains amino acids, vitamins, and a specific combination of manufactured chemicals based on skin.
Try this luxurious balm to discover whether it's just what your skin needs.
4. Eve Lom Gel Balm Cleanser
This gel is a milder version of Eve Lom Cleanser's solid balm.
It smells like raw oats and has a balmy texture that feels soothing on your skin as you massage it on.
5. XeraCalm A.D Lipid-Replenishing Cleansing Oil
Avène's ultra-gentle cleanser was created with eczema in mind, but it's also perfect for dry or irritated skin on a daily basis.
basis.
6. Drunk Elephant Slaai Makeup-Melting Butter Cleanser
Your whole skin-care regimen may be completed with the Drunk Elephant Slaai Melting Butter Cleanser.
Deep cleansing and moisturizing are provided by the emollient balm's long list of oils (like marula, baobab, and mongongo).
Bamboo powder is included in the kit as well, which may be combined with the butter to produce an exfoliant.
Best Oil-free Cleanser
1.La Roche-Posay Toleriane Hydrating Gentle Cleanser
For sensitive skin, this oil-free, paraben-free solution has been specially developed and tested.
Reviewers praise the product for its quickness in dissolving makeup and ease of use in rinsing it off.
Natural tocopherols included in this product assist in soothing and repairing skin that has been inflamed.
Related: Deodorants and Antiperspirants: Differences, Benefits, and Risks
2. Kinship Naked Papaya Gentle Enzyme Face Cleanser
Kinship Naked Papaya Gentle Enzyme Face Cleanser is gentle on the face without depleting it of its natural oils.
It has a smooth consistency, removes makeup without hurting or irritating the skin, hydrates, and soothes skin.
Oily and blemish-prone skin might benefit from this product, and what's best, it's dermatologically tested.
Best Gentle Cleanser for Dry Skin
1. Glow Recipe Blueberry Bounce Gentle Cleanser
Exfoliate gently with Blueberry Bounce Gentle Cleanser, which removes even the most stubborn of makeup.
AHAs are gentle exfoliators that may remove makeup from pores while also ungluing dead skin cells.
2. Then I met you soothing tea cleansing gel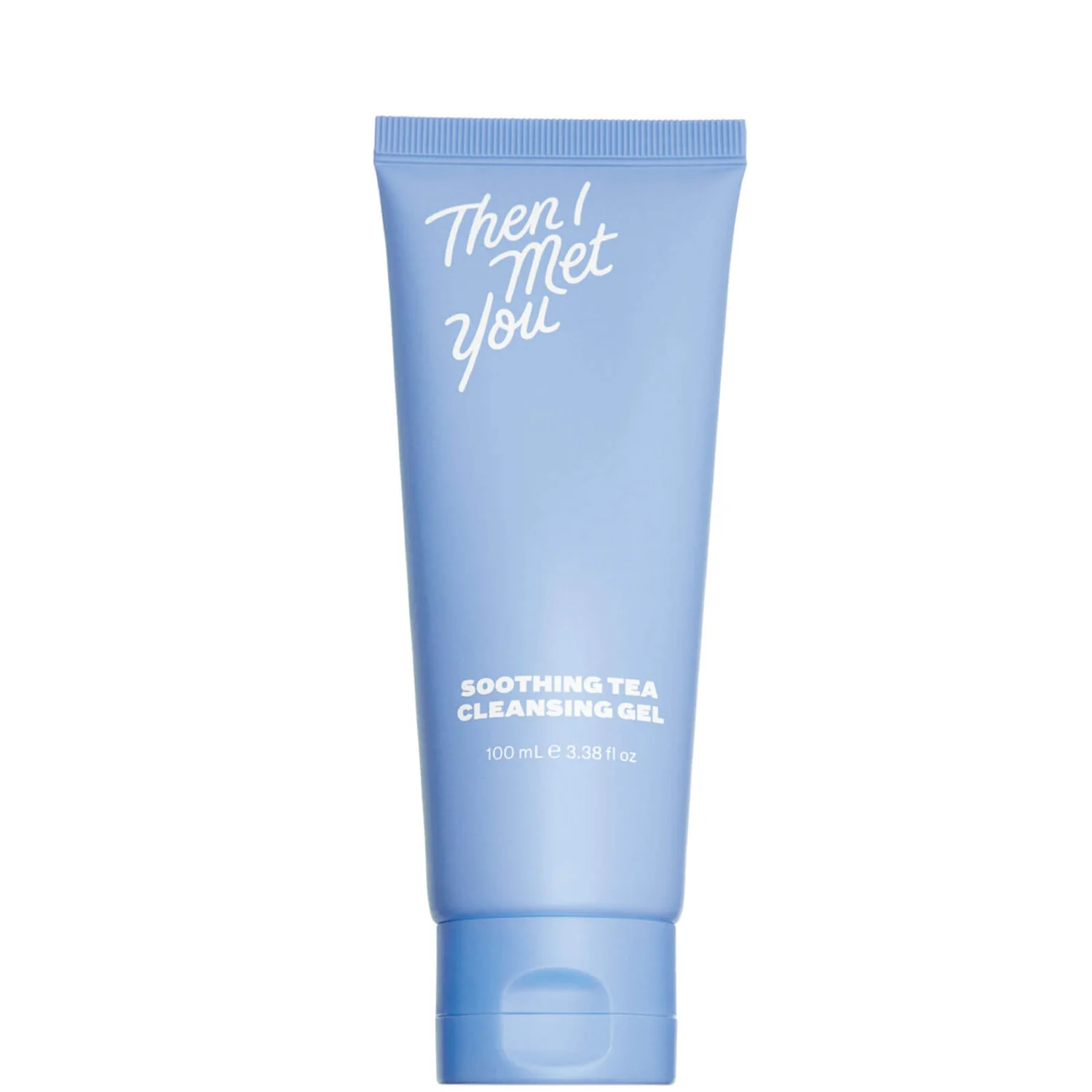 This mild gel removes water-based pollutants from the skin to leave it looking bright and radiant.
it's gentle enough to use on sensitive skin, yet powerful enough to remove dirt and oil without drying it out.
It's an outstanding component that offers the combination of its plethora of enzymes and amino acids to nourish your skin while gently removing impurities.
3. Fresh Soy Face Cleanser
There's a huge following for this pH-balanced gel cleanser, thanks to the ease with which it dissolves makeup, including waterproof mascara.
It doesn't dry out even the most sensitive skin.
Soy proteins, cucumber extract, and rosewater are all included in the formula. What's up with your skin?
In addition to soothing and toning, the pH-balanced product does not peel the skin.
It removes all traces of make-up while preserving the skin's pH level, softens and soothes the skin.
Best Alcohol-Free Cleanser for Dry Skin
1. Hada Labo Tokyo Gentle Hydrating Cleanser
For good reason, this product line is immensely popular in Japan. Hada Labo Tokyo Gentle Hydrating Cleanser is devoid of alcohol and parabens.
It also contains hyaluronic acid, which seals moisture into your skin, and it contains coconut oil derivatives for an added moisture-sealing barrier.
Best foaming Cleanser for dry skin
2. Kiehl's Ultra Facial Cleanser
When you use this face wash, you won't notice any scent, and it foams up well.
Apricot kernel oil, glycerin, and squalane are just a few of the many emollients included in this formula as well.
It is a moisturizer, which helps the skin retain moisture and enhance hydration by binding water to the surface of the skin.
Vitamin E, which is included in this cleanser and has a lot of advantages for healthy skin, is also present.
Takeaway on Cleansers for Dry Skin
Your glow-up journey has just begun. Now that you know what kind of cleanser you should be using for your dry skin,
These products have the best reviews and will work wonders on your skin.
You can't afford to use a cleanser that robs your face of all its natural oils, and you won't because now you know better.
There's a wide range of options you could choose from, so go forth and glow.