If your skin feels like it's thirsty, it's high time I told you the best way to hydrate skin, and I mean, the very best.
Beauty experts are always talking about what works for their skins and they never leave hydration out of the list.
Everyone's raving about hydration, but do they tell you how best to hydrate your skin?
That's why you have me. I'll be sharing with you tips on how to get your skin looking soft, healthy, and plumpy.
And yes, hydration can get the job done.
If you thought all you have to do is drink water, well you got something right. Water is on the list but it's not the only thing and that's what this article will reveal.
We spoke to dermatologists and they shared skincare secrets with us, the best way to hydrate skin.
Coupled with our expertise, we put together this article to help you get the best hydration for your skin.
Here are my top secrets, the best way to hydrate skin can't get better than this.
Best way to Hydrate Skin
Here are tested and tried tips for all-day hydration.
1. Drink water
We've stressed this over and over again. Drink water, it gives you hydration from the inside.
And no that doesn't mean it'll make stop you from aging but it gives your skin a radiant and plumpy look.
Drinking water flushes out toxins from your body thereby giving you healthy skin.
Research has shown that drinking the proper quantity of water for your body enhances the dermal layer, resulting in a moisturized skin.
2. Eat a healthy diet
Eating meals rich in antioxidants, water, and high fat can help you get plumper skin, so keep an eye out for these types of foods while planning your diet.
It turns out that many of these are already in our diets, and that finding them is not difficult at all.
Citrus fruits, such as oranges and lemons, are high in Vitamin C, which is essential for maintaining the texture of your skin.
Vitamin A and B3-rich foods are also necessary for better skin health.
3. Use mild cleansers
Your cleanser might be the bad guy here. Yes, some cleansers strip your skin of its natural oils, causing your skin to feel dry.
A good cleanser can help you get rid of makeup, oil, and other debris from your face, but sometimes we go a little overboard and our skin looks dry after we wash it.
Instead, choose gentle cleansers that protect your barrier and help you clean up at the end of the day.
If you have really dry skin, you might not even want to wash your face in the morning.
just bathe, moisturize and do every other thing you'd like to your skin.
4. Exfoliate
Once or twice a week should be enough for you to slough off dead skin cells. This helps moisturizers you use to get into your skin better.
Dr. Hart says mechanical exfoliation can damage the skin's barrier and cause dryness and irritation.
"Exfoliate with an ingredient that keeps your skin from drying out, like glycolic acid or lactic acid," he adds.
However, be careful not to over-exfoliate, because too much exfoliation can break down the skin's barrier, which can result in moisture loss.
5. Use a humidifier
There is more moisture in the air when you run your humidifier in your bedroom and other places where you spend a lot of time.
This means that less moisture is lost from your skin.
To keep the air inside our homes from getting dry, it's important to turn the heat down in the winter.
6. Ditch hot baths
I know you love hot baths, you probably think it opens up your skin's pores but hold up.
According to Dr. Hart, "hot showers and baths cause water to flow out of your skin and evaporate into the water, which makes your skin dry."
Short, lukewarm showers are the best kind of shower because they keep the water in your skin.
7. Don't skip sunscreen
When you go outside during the day, put on a broad-spectrum sunscreen to protect your skin from the sun's UVA and UVB rays.
Sun exposure can make your skin dry and weaken its collagen and elastin, which are important for its strength and elasticity.
This can make you look older than you are.
Related: The 20 Best Body Scrub for Healthy and Glowing Skin
8. Use a sleep mask at night
Skin is more open at night, which means two things;
A lot of water can evaporate from the surface of your skin in a process called transepidermal water loss.
It also means that actives can get into the skin more easily, wriggling their way into the skin to do their job.
This is why, among other things, derms tell people to use their most powerful actives at night.
Sleeping masks to the rescue.
These pretty products are made to give your skin a high dose of ingredients, like antioxidants or fatty acids, that will make your skin feel better and look better.
9. Go for moisturizing ingredients
When it comes to moisturizers, there are three types that you should use in your skincare: humectants, emollients, and occlusives.
They all work together to keep the skin moisturized, it's important to look for products that have all three in them, says Dr. Kelly.
Humectants
These are great layering options for people who have dry skin. Humectant serums are your go to.
People who use serums as a treatment step should think of them as a step in the process.
The reason is that serums are made with a higher concentration of active ingredients so that they can sit on top of fresh skin and in some cases penetrate the stratum corneum.
If you're looking for ways to stay hydrated, serums containing humectants like hyaluronic acid and glycerin should be your best friends.
Humectants are substances that attract and retain water in the skin, allowing it to remain supple throughout the day.
Emollients
It can't just be humectants. They can't do it on their own.
Emollients are a group of hydrators that help the skin's barrier function by calming the skin and filling in small gaps in the skin with lipids.
They include things like ceramides, which are fatty molecules that make up the natural skin barrier and help to keep moisture in the skin.
Emollients include things like ceramides, which are fatty molecules that make up the natural skin barrier and help to keep moisture in the skin.
A natural oil made by your skin's sebaceous glands, called squalane, also helps keep your skin cells together.
Ceramides and squalane are the guys for the job.
Occulsives
Petrolatum, beeswax, and mineral oil are all occlusives.
They form an inert layer on the skin and stop water from passing through the skin to the outside.
Related: How to Improve Skin Texture: 6 Skincare Tips to Try
10. Apply your skincare products on damp skin
Always pat your skin dry after a wash or shower, not scrub or pull.
It's never good to tug at the skin.
Other than that, we also say this because it leaves the skin just a little damp, which can be the perfect setting for hydrating products to be layered on top of.
"After you cleanse, you want to keep all that moisture goodness," says Dr. Kelly.
The humectants in your products, like hyaluronic acid and glycerin, will be able to hold on to moisture better if you're giving them moisture.
Best Way to Hydrate Skin: 6 Skin Hydration Products You'll Love
We talked about ceramides, emollients, and humectants, right? Here are 6 products to give you the best skin hydration experience.
1. Cetaphil Moisturizing Cream
This is a fantastic cream for both the face and the body.
It's great for treating dry skin since it contains moisturizing humectants like glycerin and skin-softening emollients like glyceryl stearate and sweet almond oil.
Plus, it's budget-friendly.
2. Aquaphor Healing Ointment
There are people who have skin that gets dry and flaky, especially in the winter. There are also people who have skin that is so dry that it looks scaly and is very hard to nourish.
This product is for you.
It's an emollient that can help repair a damaged skin barrier, which is a common cause of dry skin.
Brad says "it could get greasy but it's great when used right after the shower or bath to lock in moisture and help heal dry cracked skin."
Besides, it doesn't have any scents, which makes it a good choice for people with sensitive skin, too.
3. CeraVe Moisturizing Cream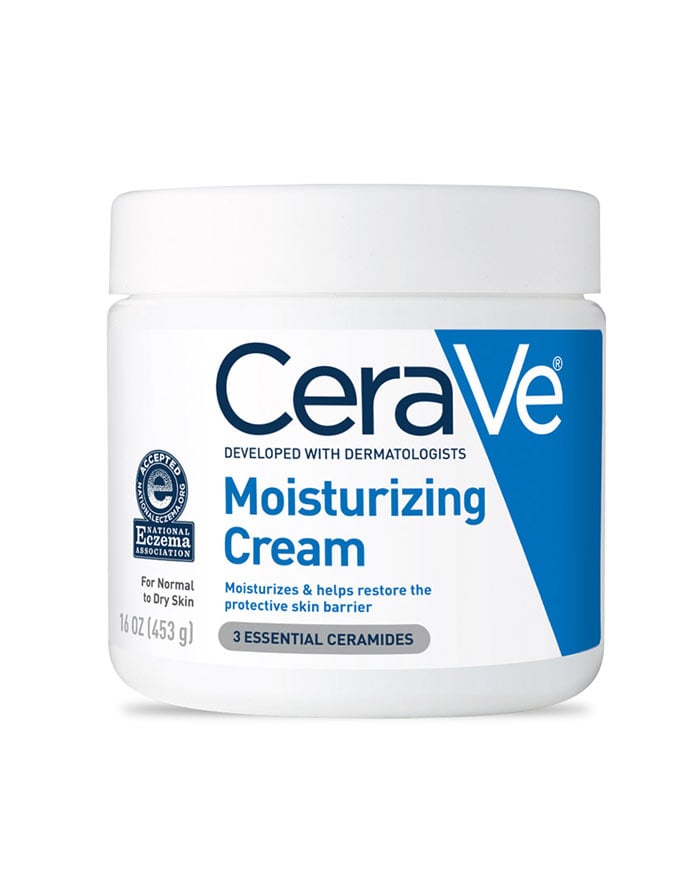 CeraVe Moisturizing Cream has a high lipid content, which really helps restore dry, cracked skin.
Clara says it's one of her favorite moisturizers.
4. Neutrogena Hydro Boost
One of the best things about it, according to Dr. Kristine a dermatologist, is how quickly it disappears into the skin. This means it can be used alone or under makeup.
It's also great for mature skin, sunburned skin, Accutane users, pregnant women, and so on because it's so hydrating and gentle at the same time.
5. Vanicream Moisturizing Skin Cream
It's free of lanolin, formaldehyde, parabens, and fragrances, which can irritate dry, sensitive skin.
However, she says that it's "full of ceramides, which strengthen the skin barrier. It's out with parabens and in with ceramides.
6. Aveeno Ultra-Calming Nourishing Night Cream
Aveeno night cream is fragrance- and oil-free meaning anyone can use it, even those with "sensitive skin or even those with red, itchy, or tight skin."
Besides, it has "soothing colloidal oatmeal and feverfew extract," both of which can help "reduce facial redness and skin irritation" that comes with dry skin, so yes you need this.
I recommend you use this at night because it's very thick and is meant to hydrate your skin while you sleep.
Takeaway
Now you have no excuse to go around with dry, flaky skin. You know what to do.
Drink water, exfoliate, and moisturize. Your skin will thank you.
If you still have questions about this article? Kindly drop it in the comment box below, we will be happy to help you.
Don't forget to follow us on Instagram or Pinterest for daily updates.