Choosing the right skin care product can be as hard as picking the right makeup but choosing the best skincare products for sensitive skin is twice the stress.
Sensitive skin can mean so many different things, from redness to rosacea or maybe eczema.
Or that your skin is easily irritated by common ingredients in skin-care products, so you need to be careful.
Sensitive skin might be more sensitive to wind, sunlight, and pollution, and it might be more likely to flake and itch.
Knowing what to look for and what to avoid is essential, but picking the right products when there are tons of glistering bottles in the mall isn't so easy.
Which is why you are reading this right now.
We spoke to dermatologists and they shared with us the skincare tips and products that will soothe, calm, and moisturize your sensitive skin.
Ahead are the 10 best skincare products for sensitive skin.
10 Best Skincare Products for Sensitive Skin
Here are the 10 products that won't irritate sensitive skin.
Best cleansers for sensitive skin
Cleansing is an important step in every skincare routine and it should be done with the right products. If you have sensitive skin, you'll really pay attention to fragrances and other ingredients.
You'd want a cleanser that won't strip your skin of its natural oils.
Here are our top cleansers for sensitive skin.
1. Cetaphil Daily Face Wash
Cetaphil's daily face wash has gained the trust of folks with sensitive skin and dermatologists alike due to its soothing, non-irritating nature.
It doesn't clog pores, mess with your skin's barrier function, or strip your skin of its natural oils. A lot of the ingredients in it are also good for your skin, like glycerin, vitamins B5 and B3.
This gel-to-foam cleanser is best for people with sensitive skin who have a combination of oily skin.
Related: Best Way to Hydrate Skin: 10 Pro Tips for Hydration
2. Fresh Soy Face Cleanser
There are probably too many harsh cleansers out there for people with sensitive skin. But that doesn't mean you can't still get a mild cleanse while getting rid of your makeup and dirt.
Tyler Harry, a makeup artist, says this Fresh cleanser is "perfect for very sensitive skin." It has cucumber extract and rosewater, which are both soothing.
She says it makes your skin toned and bright which kind of saves you the stress of an extra step in your routine.
It also has soy proteins that are rich in amino acids, which help keep the skin soft and smooth.
3. The Ordinary Squalane Cleanser
"I avoid makeup wipes since they are often excessively harsh or dry out my skin. Instead, I use the ordinary squalane cleanser.
I warm it up in my palms before massaging it into my dry face.
The makeup melts off my skin, and a fast rinse removes it all – no need for washcloths," says Mary.
Best toners for sensitive skin
It's not enough to use cleansers, a good toner doesn't just cleanse but gives that soothing moisturizing effect.
Here are the toners that will do wonders for your sensitive skin.
4. Nuria Rescue Pore-Minimizing Toner
Clogged pores lead to breakouts, but many toners that aim to deep-clean absorb moisture as well.
Take, for example, this one from Nuria, which mixes relaxing witch hazel, redness-reducing horsetail, purifying tea tree oil, and skin-protective rosemary.
It promises to minimize pores and give radiant skin.
Apply with your fingertips or a cotton pad before your moisturizer in the morning and evening.
5. Bliss Clear Genius Toner + Serum
Even if you are new to toners, his product is definitely worth the try.
It has a light, gel-like consistency that feels cool on my skin and evens out my complexion.
Its active ingredients that help to reduce acne and redness include witch hazel, niacinamide, and salicylic acid.
I also like that it is vegan, alcohol-free, and fragrance-free.
Best Serum for sensitive skin
Serums provide your skin with extra moisture, but that's not all. Some of them treat skin conditions like rosacea and redness. They also provide anti-aging benefits.
Here are the best serums for sensitive skin.
6. PCA SKIN Anti-Redness Serum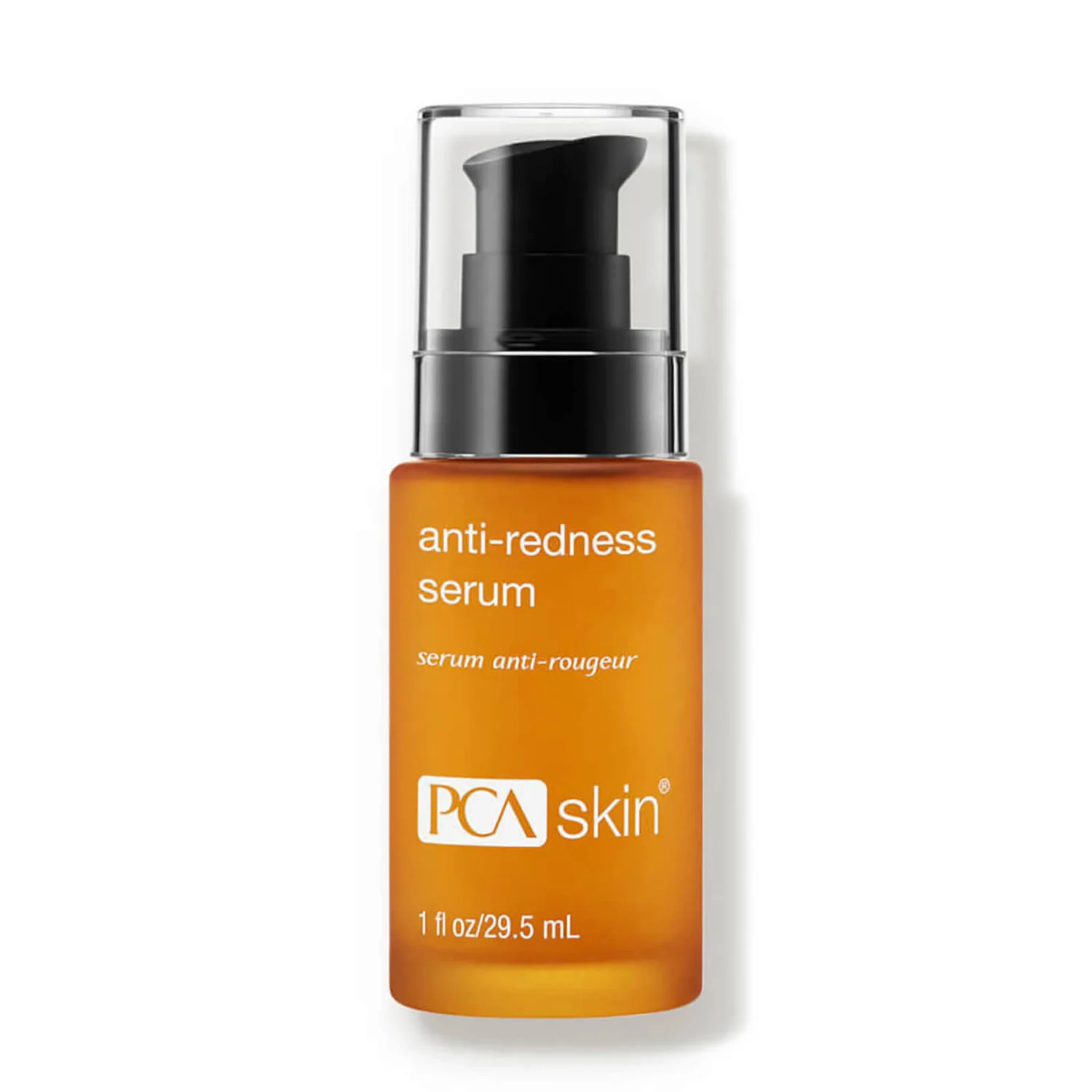 Rosey Jones, a dermatologist, strongly recommends you use this soothing serum if you're prone to redness.
It has Aldavine, which is an anti-inflammatory peptide made from algae, and bisabolol, which is found in chamomile.
"It helps reduce redness and hypersensitivity," she says.
7. Versed Press Restart Gentle Retinol Serum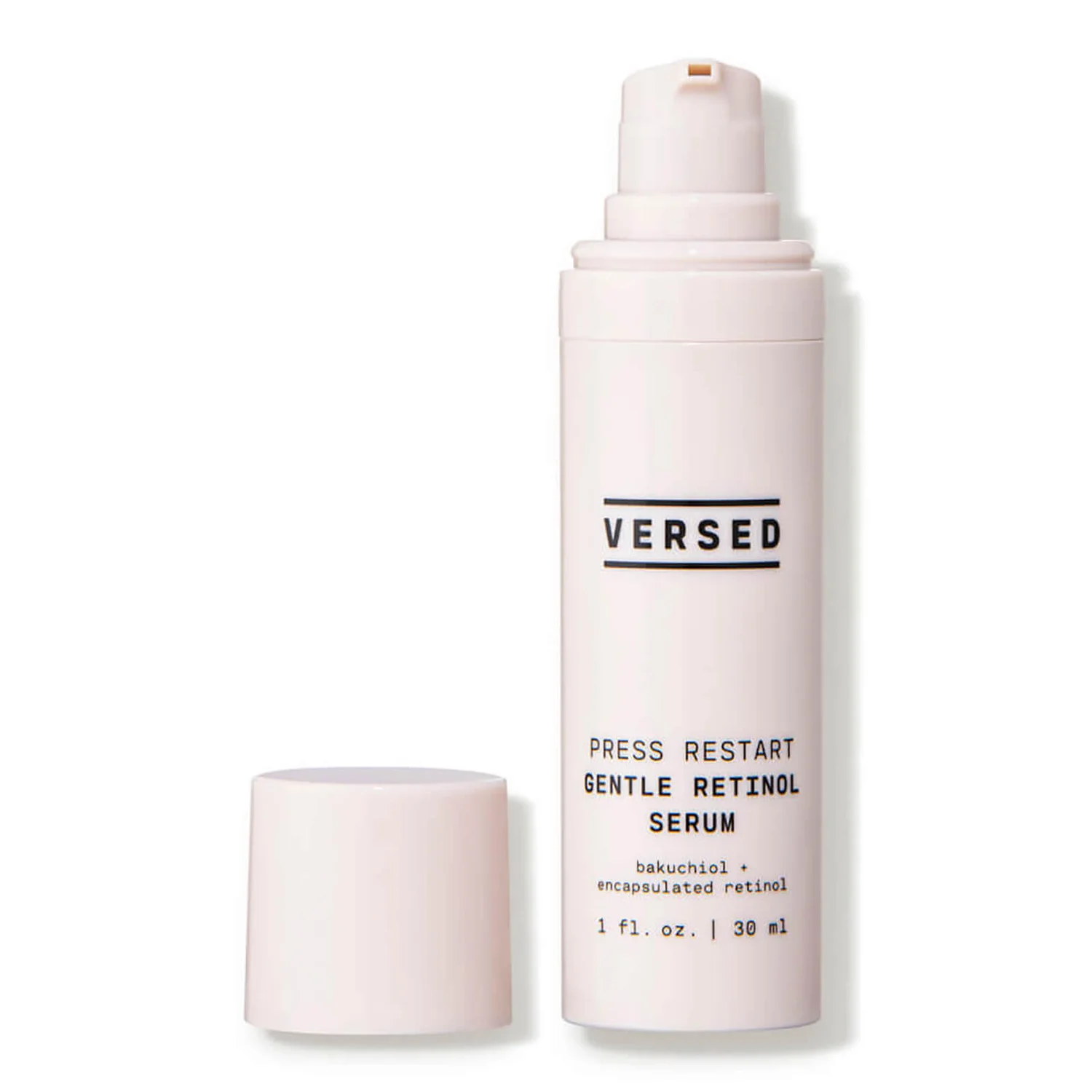 Retinol is an amazing skincare ingredient.
Retinol is a favorite ingredient for treating wrinkles and acne because it speeds up cell turnover and boosts collagen production.
It's also a strong ingredient that might irritate more delicate skin types, so it's important to read the label before you use it.
You should also start out with a low percentage of retinol, like this Versed serum. Look for a formula that isn't going to irritate your skin.
Dr. Kelly says, "this nongreasy jewel is a creamy, soft retinol serum particularly created for sensitive skin types and first-time retinol users."
As an added bonus, this product is devoid of irritating ingredients like parabens and synthetic perfumes.
8. Philosophy Nature In A Jar Skin Reset Serum
Retinol is a popular ingredient that is said to help fight skin aging, but it can cause redness, dryness, and flakiness.
If your skin is more sensitive, you might want to use bakuchiol instead of retinol.
This quick-absorbing serum from Philosophy lets you get the same skin-smoothing benefits without having to deal with the irritating side effects.
Apply a small amount to clean skin in the morning and at night before moisturizer to use. Shake the bottle before each use.
Best moisturizer for sensitive skin
You should never skip moisturizers if you want good skin. And, it doesn't matter what your skin type is.
Moisturizers help seal in moisture in your skin, they're best applied to damp skin.
Here are the products that will moisturize sensitive skin without irritation.
9. CeraVe Daily Moisturizing Lotion
Everyone knows and loves CeraVe Daily Moisturizing Lotion and there are lots of reasons.
With a recipe that's moderate enough to be approved by the National Eczema Association, this fragrance-free lotion has three kinds of ceramides along with moisturizing hyaluronic acid.
As an added bonus, this product may be used on both your face and body.
Related: What Is a Toner For Skin? 10 Best Toners For Smooth Skin
10. La Roche-Posay Toleriane Double Repair Face Moisturizer UV SPF 30
Using a moisturizer with an SPF built-in might help streamline and speed up your morning routine.
The American Academy of Dermatology recommends you use SPF 30 and above for best results.
Ceramides, glycerin, and other ingredients help keep your skin moisturized.
Niacinamide and other antioxidant ingredients in the brand's own thermal water add to the amazing skin benefits of this moisturizer.
Related: What Does Niacinamide Do For Skin?
Best skincare products for sensitive skin- FAQs
Here are the commonly asked questions on skincare products for sensitive skin and the answers that will help you.
What do you recommend for sensitive skin?
Creams or lotions containing glycerin, hyaluronic acid, petrolatum (mineral oil jelly), ceramides, or lipids may be suitable for sensitive skin.
You can use these products to keep your skin from getting dry and to protect your skin barrier.
Some lotions that have chamomile, aloe, and green tea polyphenols in them may help soothe skin that is very dry or itchy.
What should you not use for sensitive skin?
If you have sensitive skin, that means there are some ingredients that should never be found in your skincare products because they could irritate your skin.
These are the ingredients you should avoid:
Sodium Lauryl Sulfate
Alcohol
Essential Oils
Chemical sunscreens
Harsh exfoliants
Fragrance
What causes skin sensitivity?
Skin diseases or allergic skin responses like eczema, rosacea, or allergic contact dermatitis may trigger sensitive skin reactions.
Cutaneous that is too dry or damaged to protect nerve endings, result in skin responses.
Is Aloe Vera good for sensitive skin?
Aloe vera, as a skincare ingredient, may be useful as part of hydrating skincare product compositions and is acceptable for all skin types.
According to the Mayo Clinic, those with sensitive skin might benefit from aloe since it has calming characteristics.
When used topically, aloe vera's anti-inflammatory characteristics make it an excellent choice for treating minor cuts, bruises, and other skin irritations.
It has the potential to reduce scarring while also speeding up wound healing.
Does skin get more sensitive with age?
There may be a decrease in the levels of the natural substances that make skin look young and healthy. This can cause fine lines and wrinkles to appear.
There might be less skin volume or less density if the inside of the body weakens more.
As the skin gets older, it may also become a lot more sensitive.
Summary
It can be such a hassle finding that perfect skincare routine, and when you have sensitive skin, picking the right skincare products is basic and it can be hard.
We wouldn't want you to walk into a store and start picking random products, and you won't.
Not after you've read this wonderful article we put together on the best skincare products for sensitive skin.
Shop from the list we've provided and your skin will thank you.
If you have questions about this article? Kindly drop it in the comment box below, we will be happy to help you.
Don't forget to follow us on Instagram or Pinterest for daily updates.