I like to think that the best body scrub is an essential beauty ritual because if you don't include exfoliation in your bathing routine, you're missing out on a lot.
We know skincare is so demanding. It could even be tougher to make facial exfoliation a regular thing, but don't forget about the area below your chin, either.
Physical body exfoliators not only smell and feel good, but they are an important aspect of skincare.
Regular peeling off dead skin is an important step in preventing dryness. You may use moisturizer liberally all day, every day, but it won't do any good if dead cells clog the pores.
Take it from me: exfoliating just a few additional minutes while in the shower may have an enormous impact on your skin's appearance.
When you exfoliate at least once a week, you get rid of all the dead skin cells and expose silky-smooth skin underneath them. I know you want that.
All you have to do is find the frequency that works for you whether it's once to twice weekly.
Sarah Jones, a certified dermatologist, advises her patients to exfoliate on a regular basis, "from once a week for everyone to once or twice a day if you have difficulties such as acne, rough elbows, and dry skin."
So, who's ready for some refreshing body scrub? Check out these 20 body scrubs for an all-year-long glow.
20 Best Body Scrub for Best Results
1. Dove Exfoliating Body Polish Crushed Macadamia & Pear
This body scrub right here is the holy grail of exfoliation. The exfoliators aren't overly harsh, but they're also not insignificant.
Unlike certain sugar-based scrubs that dissolve after a few minutes of usage, this one uses hydrated silica to remove dead skin and give long-lasting exfoliation.
Due to its 25% moisturizing cream content, the Exfoliating Body Polish Crushed Macadamia & Rice Milk richly moisturizes in classic Dove fashion. It's one of our favorites.
2. Fresh Brown Sugar Body Polish
Nearly two decades after its debut, the Fresh Brown Sugar Body Polish is still one of the most sought-after brown sugar body scrubs available today.
Thanks to ginseng and peppermint essential oils, you'll smell like you've been to the spa when you use these exfoliating brown sugar crystals.
Evening primrose, jojoba, sweet almond, and apricot kernel oils work together to moisturize the skin without leaving it oily.
3. Ouai Scalp & Body Scrub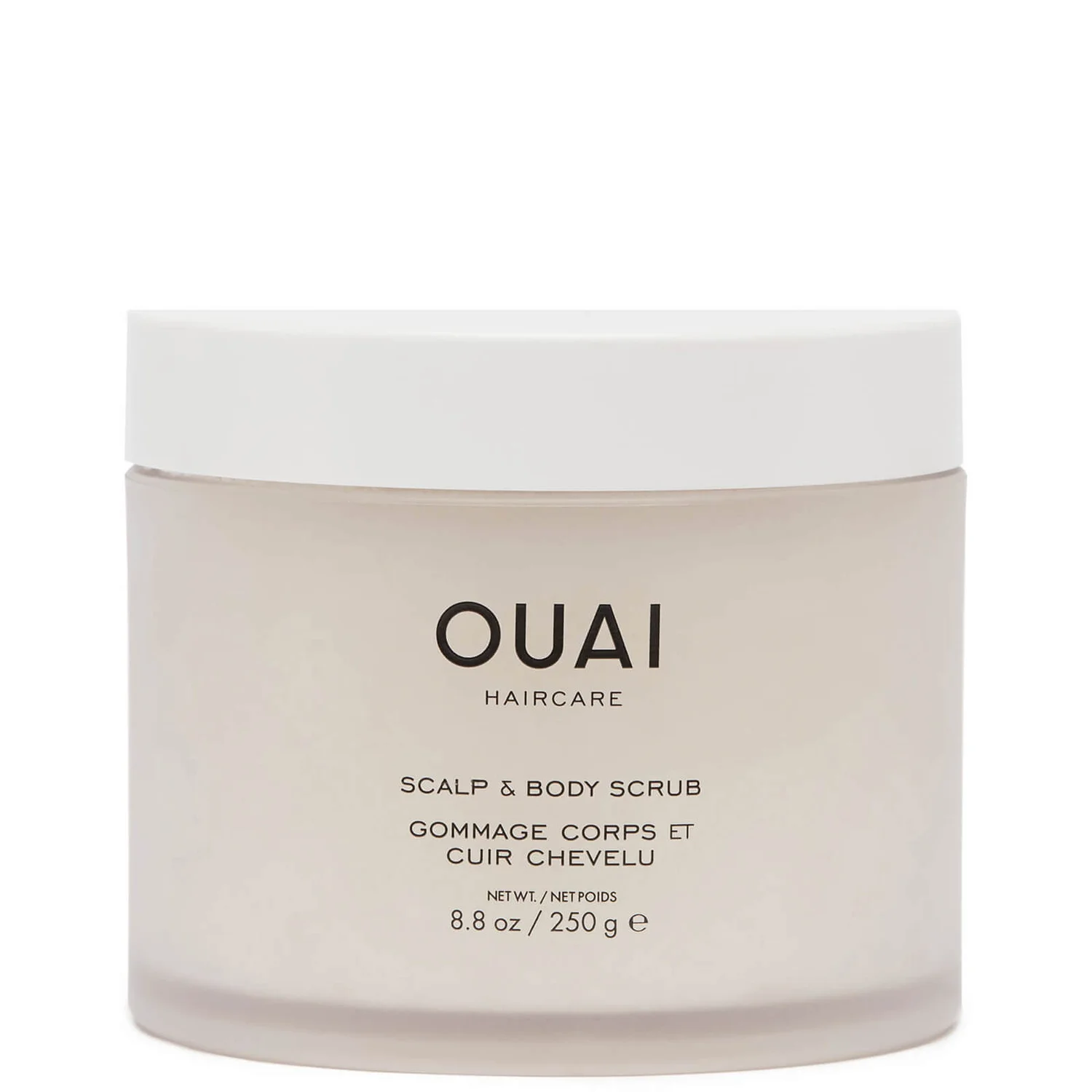 Ouai's Scalp & Body Scrub is effective in removing dead skin cells from limbs while still being mild enough to use on the scalp.
The luxurious exfoliator contains sugar crystals that remove product buildup, excess sebum, and dry spots of skin (including flakes on your scalp) without drying out your hair.
It also contains probiotics to help balance your skin's natural bacteria levels, (don't worry, these are good ones) and hydrating coconut oil.
4. Lord Jones Bump + Smooth CBD Body Serum
It is a non-abrasive chemical exfoliation serum that minimizes bumpiness and exposes smoother, brighter skin.
To gently eliminate dead cells, it has a 4-acid combination. Perfect for rough or bumpy regions on arms, elbows, legs, and knees.
5. Caress Evenly Gorgeous Exfoliating Body Wash
This honey-pot scrub is worth every penny. the exfoliators are tiny enough and soft enough that you'll want to enjoy this lather regularly.
6. Frank Body Original Coffee Scrub
This body scrub looks and smells like ground coffee, but you won't be able to taste it.
It has coffee grounds (which are exfoliating), but it also contains vitamin E, almond oil, and sea salt in the Frank Body Original Coffee Scrub, so it's not just a scrub.
Lots of natural ingredients found in this substance may be used in the skincare process to achieve supple, even skin. If you've got scars, breakouts, or dull skin, this is the product for you.
It gets a little messy because of how loosely packed this material is. You'll have to deal with that.
7. 100% Pure Body Scrub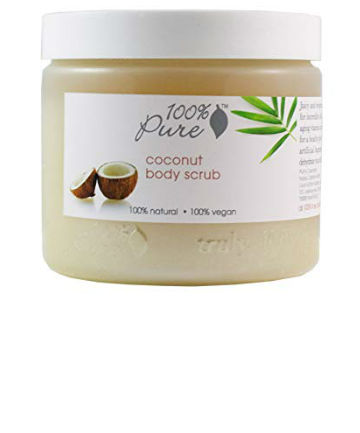 The 100% Pure Body Scrub comes in honey almond, blood orange, coconut, and lavender aromas for a relaxing spa feeling.
A moisturizing mix of sunflower and apricot oils is suspended in a substrate of crystalized sea salt, which exfoliates the skin while replenishing moisture.
8. Herbivore Crushed Amethyst Exfoliating Ameth
Fortunately, Herbivore Crushed Amethyst Exfoliating Body Polish is as effective as it is beautiful.
Epsom salt and virgin coconut oil, as well as powdered and tumbled amethyst gemstones, are all packed into the lavender paste, which quickly brightens and smooths the skin.
9. Dermadoctor KP Duty Body Scrub
The glycolic and lactic acids in this scrub help cure keratosis pilaris (tiny bumps on the skin caused by excessive keratin production).
You'll want to use this as a weekly treatment rather than a daily body rub since it's so strong.
10. Alba Botanica Acnedote Face & Body Scrub
A chemical exfoliator, salicylic acid, penetrates deep into pores to remove debris and oil from the skin's surface, while ground walnut shells slough off dead skin.
While delicate enough to use on your face, this body exfoliant costs less than $10 and works just as well on problems like body acne. Unbelievable!
11. SheaMoisture African Black Soap Bamboo Charcoal Body Scrub
charcoal is known to have amazing exfoliating properties and the Shea Moisture's African Black soap Bamboo Charcoal Body Scrub infuses that in.
Coal and tea tree oil removes dead skin cells while drawing dirt to the surface at the same time and getting rid of them.
12. Neutrogena Body Clear Body Scrub
Acne-fighting salicylic acid and small exfoliating beads are included in the lathering formula of the Neutrogena Body Clear Body Scrub's lathering recipe, much as you would use an acne cleanser on your face.
The product is mild enough to be used on a regular basis.
13. Jo Malone London Geranium & Walnut Body Scrub
Gentle enough for daily use, this polishing scrub is enriched with sunflower seed and shea butter.
Natural bits of walnut shell in the product also helps to exfoliate and smooth the skin, it literally refreshes your skin.
14. Seaweed Bath Co. Exfoliating Detox Scrub
To remove rough spots, this scrub uses a variety of natural substances.
A combination of French clay, walnut shell powder, and green coffee beans exfoliates the skin without irritating it.
With a sleek black container, The Seaweed Bath Co. Exfoliating Detox Scrub is packaged in a minty rosemary aroma. Nice.
15. Beneath Your Mask Detoxifying Body Scrub
The Dead Sea salts in Beneath Your Mask Detoxifying Body Scrub truly goes into the congested pores.
Your skin won't feel tight and dry after exfoliating because of the combination of aloe vera and avocado, which replenish moisture and soothe the skin.
16. This works perfect leg scrub
Himalayan pink salt crystals in this buttery balm brush away dead skin cells, allowing the deep-penetrating oils of blackcurrant and sweet almond oils to do their work. You definitely should try this one.
17. Bath & Body Works Aromatherapy Stress Relief Eucalyptus + Eucaly
Stress Relief Eucalyptus + Spearmint Sugar Scrub from Bath & Body Works has skin-loving jojoba, sunflower, and almond oils that nourish the skin while it exfoliates to remove dull dead skin cells. With this, you get the spa-at-home feeling.
18. Paula's Choice Weightless Body Treatment 2% BHA
this leave-on body exfoliator with 2% BHA removes built-up layers of dead skin to reveal a vibrant, flawless complexion.
It's a pleasure to use and helps to refine and unclog pores at the same time.
19. Salts of the Earth Body Scrub
This luxurious body scrub keeps your skin soft and supple from top to bottom.
Mineral-rich Dead Sea salt, Bolivian rose salt, and Himalayan salt gently exfoliate while ultra-rich shea butter seals in velvety moisturizing properties to give skin a young, rejuvenated look.
20. Rituals The Ritual of Karma Body Scrub
When it comes to body care, the scent may have a significant impact on the whole experience. You want to close your eyes and inhale all that goodness. There's a lovely smell to the product's combination of white tea, holy lotus oil, jojoba oil, and sweet almond oil, which nourish and hydrate the skin.
Related: The 10 Best Cleansing Balm for All Skin Types in 2022
How do I use body scrub?
Using a body scrub isn't tough at all. Just follow these simple steps:
Wash your skin with warm water.
Get the body scrub and massage it into your skin.
Use an exfoliating glove or your hands to apply it to your skin in circular strokes.
Spend no more than 30 seconds lightly exfoliating your skin.
Use enough lukewarm water to thoroughly cleanse your skin.
Use your regular cleanser to finish up.
Pat-dry with a clean towel.
Apply a hydrating lotion or moisturizer.
Body Scrub Benefits
1. They improve the absorption of moisturizer by your skin.
By removing dead skin cells, any moisturizer applied thereafter will penetrate the skin more deeply.
2. Clear pores and keep ingrown hairs at bay.
By using a body scrub on a regular basis, you can clear your pores and avoid razor bumps and ingrown hairs.
3. Smooth out and level out your skin.
When dry skin is not removed, the skin becomes harsh to the touch, with a dull, cracked feel and look. You should have smoother and more even skin after eliminating the dead, dry cells.
Frequently Asked Questions about Body Scrub
Do body scrubs really work?
Yes, it works.
Because it eliminates the top layer of dead skin cells, exfoliation helps brighten your complexion, according to dermatologists.
What is the best time to scrub?
Mornings are perfect for a body scrub
Because the skin heals itself overnight, it's best to do your exfoliation early in the morning while it's fresh and ready to be sloughed off.
How do you exfoliate your vag?
Remove any dead skin cells blocking your pores around your bikini line with a gentle circular motion of your cleaning instrument. Make sure to completely cover the area.
Take a minute or two to let the exfoliant work its magic on your skin. Rinse it well.
What happens if you don't scrub your back?
A lackluster complexion is the most probable outcome. It's not going to kill you, either.
However, bacne, as the term for back acne, may result. And it may put an end to whatever intentions you had for a shirtless swim.
Is a loofah or washcloth better?
Washcloths are preferable to loofahs. Wash them after one use.
The nooks and crannies of loofahs make them more likely to contain germs.
Takeaway
Body scrubs might be just the thing you need to include in your skincare routine to get that glowing skin you've been dying for.
And now, I've introduced to you a whooping 20 best body scrub. Y'all owe me so much.
But do not overuse these products. Like I already mentioned, pick a frequency that works for you and stick with it; your skin will thank you.
However, if you still have questions about this article? Kindly drop it in the comment box below, we will be happy to help you.
Don't forget to follow us on Instagram or Pinterest for daily updates.